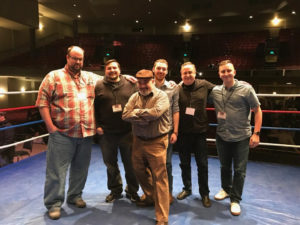 Memorial Hall wouldn't figure to be a setting for IT associates and staff,  but that's exactly where our team could be found for Fight Night.
Our crew witnessed some of Dayton's fiercest men and women battle it out on Dayton Fight Night last month. These Daytonians were featured on boxing's center stage for the right to claim the title of "Miami Valley's Toughest."
Thankfully, our team has earned a good name for tech support.  No word yet on whether or not any of the rugged IT experts pictured will take their talents to the boxing ring.  In any event, a good time was by our OmniSpear attendees.