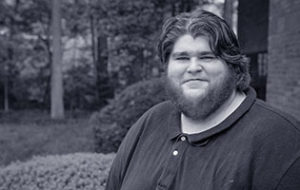 We love receiving amazing notes about our fellow teammates.  This latest review on James Porcha from our IT department makes us so happy!
"Every team has that "go-to-guy" that it counts on when the game is on the line. The legendary Michael Jordan was that "guy" for the Chicago Bulls Dynasty in the 1990s.  Fast forward to 2016, LeBron James assumes "go-to-guy" status for the defending World Champion Cleveland Cavaliers.
OmniSpear, Inc. has its own version of "go-to-guy." Most of us depend on computers daily.  So when something goes wrong, we need that "guy" to turn to.  OmniSpear's version of MJ or King James is James Porcha, a help-desk technician at OmniSpear.  With over 10 years in the IT field, I know James has the experience to help whatever issues arise.
It is interesting to note that this all started out as a hobby for James.  His passion for technology was truly helpful to family and friends who encountered computer issues.  It has now transitioned into a successful career.  And you can count on James during times of need.
As stated on OmniSpear's website, when it comes to buying or repairing computers and other technology, James has clearly established a reputation for himself as everyone's – wait for it – "Go-To-Guy!"