"OmniSpear has listened to the needs of our customer base and developed a user-friendly and reliable service that our customers use every single day, multiple times a day. "
Intellicasting offers a suite of web and mobile applications for the quick-service restaurant industry designed to help owners and managers maximize profitability and minimize time spent on routine management. The platform bundles financial reporting, scheduling and a driver reimbursement rate calculator into an integrated user experience adding value to daily operations and long-term financial management for single and multi-unit restaurant groups.

Financial Reporting

Scheduling

Mileage Reimbursement
The Challenge
With a growing list of interested clients, Intellicasting was motivated to bring a cloud-based, software-as-a-service (SaaS) subscription offering to market.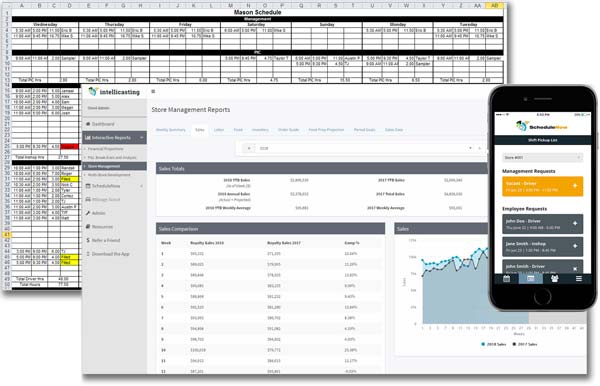 Intellicasting presented OmniSpear with a series of complex Excel spreadsheets that comprised its service offering. While the management tools and metrics were solid — refined from years of hands-on restaurant ownership — the format was cumbersome to distribute and use.
OmniSpear was tasked with translating the spreadsheets into a user-friendly software application and rounding it out with a mobile app, a robust user management system and integration points for capturing sales and expense info and driver-specific vehicle valuation.
Delivering the Solution
After a series of discovery sessions where Intellicasting schooled the OmniSpear team in the tools and methods of quick-service restaurant management, we set out to translate spreadsheet formulas and write use cases.
Roadmap in hand, the OmniSpear development team leveraged the PHP-based Laravel framework and open-source libraries to deliver a customized solution tailored to the specific workflow needs of managing quick-service restaurants. Technical details are highlighted below:
The Core deliverable was a web-based SaaS application with responsive design for easy access on all types of devices.
An Apple / Android mobile app provides a true mobile experience for scheduling and communication among restaurant team members.
The entire application was designed and developed using the MVC architecture, allowing for efficient code reuse and parallel development among front-end designers, back-end developers and database architects.
A centralized API was developed to interface with both the website and mobile app for a simplified development process and lower future maintenance costs.
Multiple layers of security were implemented, including database encryption, user authentication, API tokens and Secure Socket Layer.
A load-balanced, replicated MySQL database resides in the cloud to ensure scalability and uptime.

Delivering Value for Intellicasting's Customers
Intellicasting's customer base of quick-service restaurants operate in a fast-paced environment. They have mere minutes to delight their patrons. Recognizing the need to maximize ease-of-use, OmniSpear developed a full-featured application with an eye toward customization and efficiency.
Features
Performance dashboard and interactive financial reports offer a quick view of store results and the ability to run what-if scenarios for various sales and expense projections
Scheduling platform where managers can manage employee info, create weekly work schedules, approve employee time-off and shift-swap requests, and monitor hours and store labor targets
Mileage Scout platform that calculates mileage reimbursement rates on actual vehicles and not a theoretical average vehicle, incorporates estimated or actual insurance and ownership costs, and keeps an historical record of reimbursement rates
ScheduleNow mobile app for Android and iOS for easy access to schedules, alerts, and staff directory with one-touch messaging allowing managers to update work schedules and send employees alerts even when they're away from the office
Self-service sign-up wizard for use in customer acquisition campaigns to guide potential clients through setup and free-trial including tutorials on using platform features
Administrative back-end for maintaining users, billing and client information, monitoring usage statistics and exporting user info to MailChimp
Customization
Customizable platform allowing Intellicasting to bundle Dashboard, ScheduleNow and Mileage Scout into a single subscription or onboard clients to ScheduleNow and Mileage Scout as stand-alone subscriptions
Notification preferences customizable so employees can receive shift alerts and reminders via email, text or push notifications in the ScheduleNow mobile app
Mileage Scout integration with Kelley Blue Book and Gas Buddy customizes reimbursement rates for real-time vehicle-specific valuation and zipcode-based gas prices
ScheduleNow app available for download from Play Store and App Store by managers and employees for organizations interested in making the scheduling experience mobile.
Efficiency
Integration with point of sale system to automate data collection and synchronize with franchise management system
Integration with salesforce.com - used to manage the customer acquisition pipeline - automated the creation of leads and passed in a lead source ID for analyzing marketing campaign performance
Integrated online payment with secure credit card processing for subscription fees
Ability to upload employee information in bulk simplifying the onboarding process and reducing the effort required to begin seeing bottom-line results
Hover tips throughout the application answer provide guidance getting the most out of the application
ScheduleNow mobile app for employee download so they can easily access their shift schedule, communicate with other employees and receive push notifications about manager alerts
Delivering Value for Intellicasting
Immersed in Intellcasting's mission to bring efficiency and profitability to quick-service restaurant owners, OmniSpear's development team unlocked value by transforming a series of Excel spreadsheets into a contemporary and relevant business model.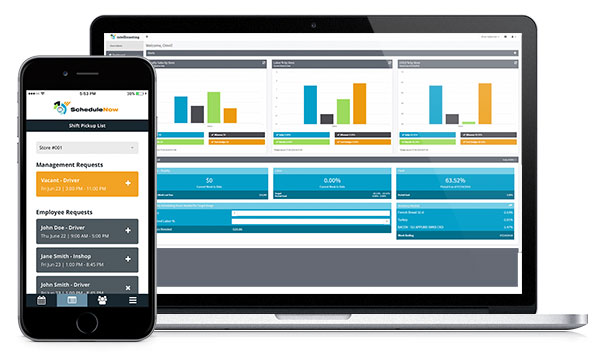 Customizable Solution – During the 4-year relationship, OmniSpear launched Intellicasting's original platform, deployed the ScheduleNow branded mobile app, converted the desktop scheduling features into a stand-alone ScheduleNow branded desktop app and released the Mileage Scout driver reimbursement rate as a stand-alone application. These separate offerings are all integrated into a single infrastructure for easy administration and lets Intellicasting bring client-specific solutions to the marketplace.
Scalable & Flexible – With Intellicasting's user admin center, clients set feature-specific permissions for each owner, area manager and manager allowing the application to serve custom page views showing only authorized features. This robust user admin equipped Intellicasting to be a competitive option for large multi-unit restaurant groups.
Low Operating Overhead – OmniSpear developed the application with code reuse and maintainability in mind, reducing monthly operating costs and simplifying future enhancements. Intellicasting is poised to be responsive to its customer base and regularly bring enhancements online to remain competitive.
Quick ROI – Intellicasting was able to recoup its investment in the software development in short order. Over 10,000 paid / subscribed users access the application on a regular basis. Expanded market penetration enables Intellicasting to crowdsource ideas, keep a pulse on the quick-service marketplace and translate the knowledge into greater value for all clients.