Chrome and LEGO have teamed up to create a unique and fun building tool, guaranteed to bring the kid and hidden architect out of anyone. With its clear 3D graphics and numerous options of brick sizes and colors, you can spend hours building masterpieces without having to ever tear apart and clean up as with the traditional toy.  The platform itself is very seamless and bursting with animation, allowing the user to retain clear views of their creation from whichever angle the bricks are rotated and stacked upon each other.  The possibilities of building are pretty vast and I must say that even without having ever owned a LEGO set, I found myself hooked.  Take a look at this link to start creating for yourself (please don't blame me for hours of lost time):
http://www.buildwithchrome.com/
The program even features a builder academy to train the LEGO newbies on the tips and techniques to building like a pro.  As you progress through the lessons, you learn the art of the LEGO, including the hidden gems of the program.  You also have the option to explore other people's creations from around the states with a map that shows you exactly where that person is located.  Meaning, once you create your build, you can share your project with the world.   It was surprising to see so many detailed models out there, each very different from the other.  I must say my starter build failed in comparison to the pros, but nonetheless, I had a great time testing the software.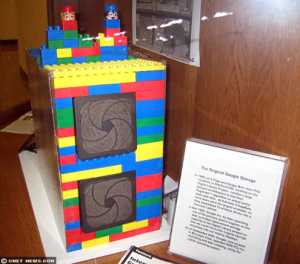 I did also learn throughout my research of this program, that Google has had a longtime connection with LEGO.  Their original storage was even housed in a LEGO unit as a cheap cabinet alternative.  This unit can still be found at Standford University today, and now the Chrome can pay homage to the beloved toy with their own online twist.