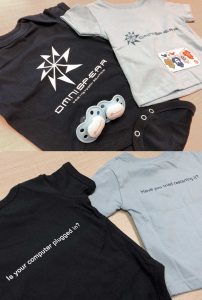 It's a bit of a tradition for us to shower gifts upon newborns in the office. When we heard the news that a baby was on the way, we scrambled to get some custom gear printed immediately!
Our go-to vendor for short-run custom printing is Zazzle. The people at Zazzle are equipped to customize nearly anything you can think of using their state-of-the art equipment and technology.
We added something special to this onesie and t-shirt combo since the father is one of our support techs. There's nothing wrong with teaching them early!