Facebook's social network now consists of over 2 billion users. Not all of them are real people and not all of them have your best interest in mind. Facebook attempts to weed them out automatically using advanced algorithms. Many fake accounts still get through. In the first three months of 2018, Facebook cleared out 583 million fake accounts.
Why is it important to spot fake accounts and what is the motivation for them? Generally speaking, fake accounts are attempting to either gather your personal information, to direct you to sites full of clickbait, or to sell you other services. So how do you spot them and what should you do about it?
Spotting fake accounts is getting more difficult as the perpetrators' techniques become more advanced. Some accounts are quite convincing, but there are a few tell-tale signs you can look out for..
Profile Photos – Many fake accounts have only one or two profile photos available. Often times there will be a caption with an external website link – this is a dead giveaway. Take a look at when they uploaded the pictures and if it was within a few days of the request, chances are the account is not real. Also look to see if there are any likes or comments on the pictures. It's very rare that a user will upload a profile picture and not have any friends respond to it.
Friends – Most fake profiles only exist for a short time before they are reported. Therefore, it's rare for those profiles to gather many friends – especially 'Mutual Friends'. If an account has only one or two mutual friends, proceed with caution and dig a bit deeper into the publicly visible information. When in doubt, ask your mutual friends to see if they know the profile personally.
Profile Activity – Even the most locked-down private profiles will have some activity visible to someone who has been sent a friend request. Take a look at their timeline. If it goes from their automatically generated birthday post directly to the post showing their profile pic, chances are very high that you are looking at a fake account.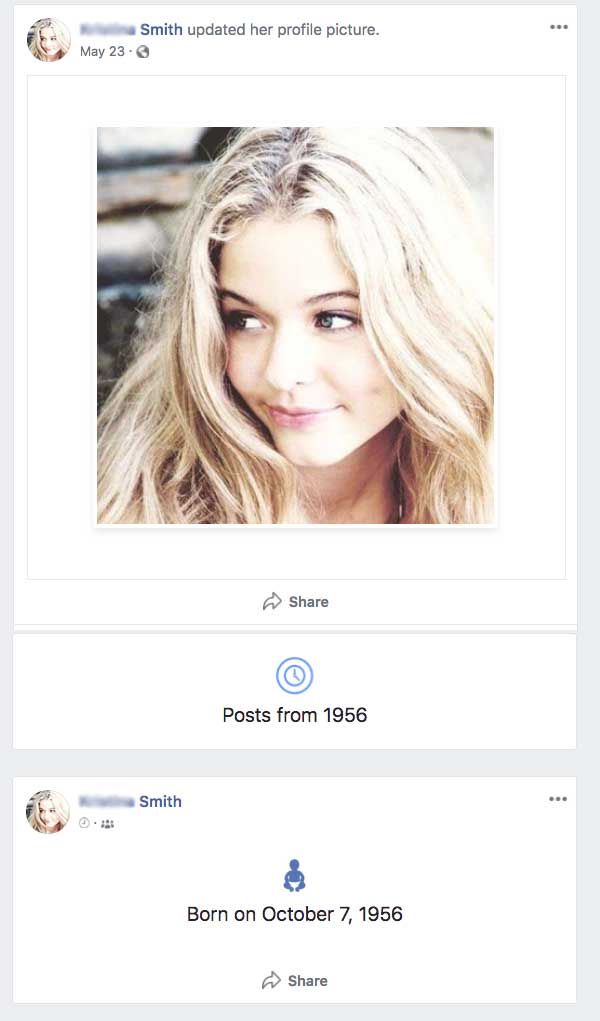 This is a good example of a fake account profile. Notice that Ms. Smith was born in 1956. In all that time, there is no public activity on her timeline. Also, she is extremely young looking for someone supposedly 60+ years old!
Fake accounts are rampant throughout social media and most are used for unethical marketing purposes. When one crosses your path, do everyone a favor and report the profile using the tools provided within Facebook. Look for the three dots on the profile picture and select the 'Report' option. Follow the instructions and help clean up the network for all of us real users!